We offer our customers high standard equipment, combining high performance,
quality and above all a very high level of safety. Moreover, we make it a point of honour to maintain a constant technological lead in order to offer our customer the best alternatives in terms of LNG and LCNG solutions.
LNG refueling interface (LNG / LCNG)
The refueling and unloading interface is a dedicated equipment for tank trucks that have to fill the station's LNG tank. It can be located more or less close to the tank according to the regulations in force, and can integrate many performance and ergonomic options. This offload interface is also proposed mounted on a deported skid.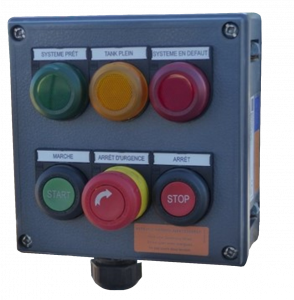 Saturation on demand (LNG)
Buffer control skid (CNG)
Electrical cabinet (LNG / CNG)